Bikini? Ja, det er det spanjolene kaller ostesmørbrødene sine som er smørstekt. Jeg elsker slike og det er spesielt et sted i Barcelona som serverer en variant med trøffel som jeg bare må ha når jeg er i favorittbyen min. Stedet heter Tapas 24 og stjernekokk Carles Abellán er geniet bak retten. Men nå har han jaggu fått konkurranse for bikinien som jeg har laget er minst like god, takket være trøffelsalamien, Jåla. 
Det er enkelt å lage disse luksusostesmørbrødene og følger du oppskriften får du du perfekt smørstekt brød, smeltet ost og en akkurat passe mengde trøffel.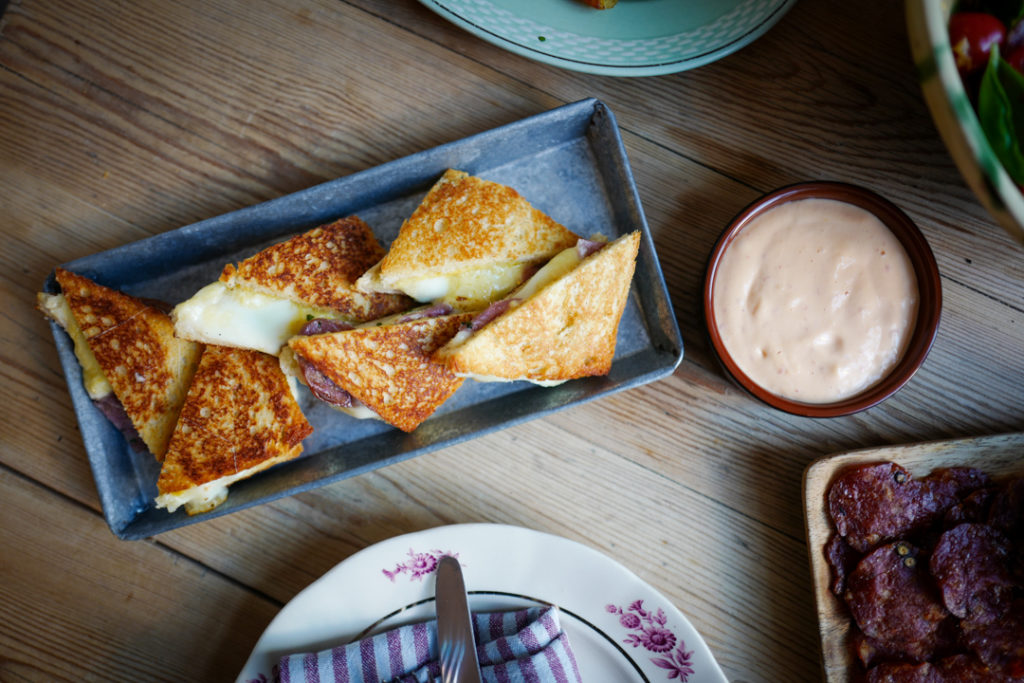 Dette trenger du:
Loff fra butikken. Ikke bli fancy her for det du er ute etter er hvitt loffebrød som føles som luft. Stol på meg. For godt brød blir for tungt til en slik rett. Vanligvis anbefaler jeg ikke å kjøpe slike produkter, men i denne retten har den en funksjon. 
Dijonsennep
Timian
Mozzarella
En ost med mer smak. Lagret cheddar er godt. Prøv å finn et norsk alternativ
Tynne skiver av trøffelsalamien, Jåla fra Ask Gård. 
Godt smør (må være av god kvalitet for mye av smaken ligger her)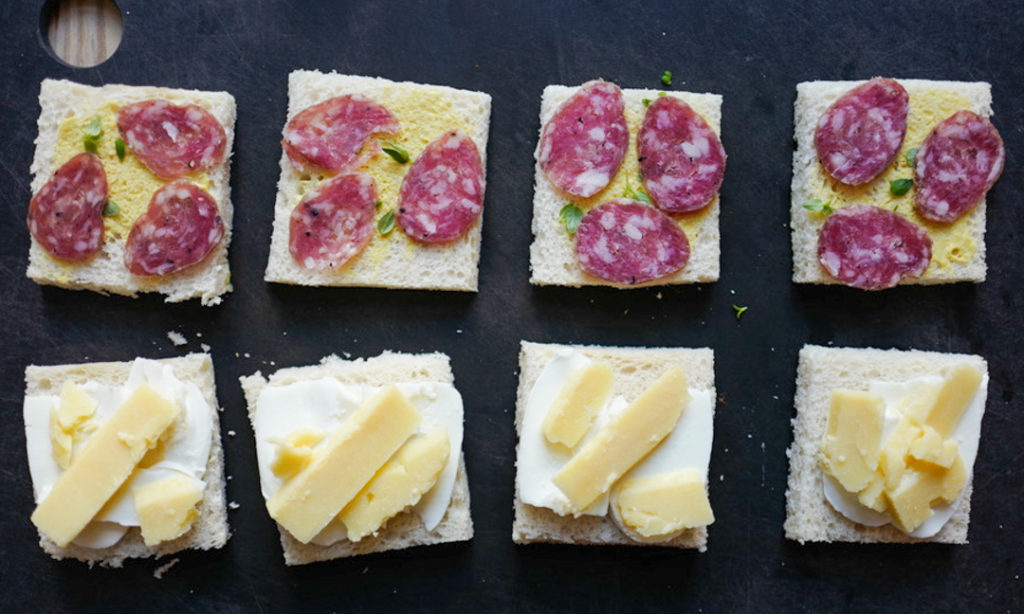 Slik gjør du:
Skjær av kantene av loffen slik at du bare har kvadrater. Kantene som du har skåret av kan du lage smørstekte krutonger av hvis du vil.
Smør hver brødskive og legg smørskiven ned på skjærebrettet. To og to skiver i høyden. Smør et tynt lag dijonsennep på en av skivene. Legg på noen timianblader og så noen tynne skiver trøffelsalami. Gjør dette på hele rekka med brødskiver.
På den andre rekken med brød legger du på noen skiver mozzarella saml skiver av ost med mer smak.
Klapp sammen skivene slik at fyllet blir inne i smørbrødet og begge yttersidene er smøret.
Varm en panne til medium pluss temperatur. Sett på ovnen på 220 grader.
Stek ostesmørbrødene i pannen til de er gylne på begge sider. Sett dem på et brett (med bakepapir) og sett dem i ovnen. Stek dem til osten smelter. Ta dem ut og skjær hvert smørbrød i to trekanter. Voila! Nå har du laget ekte jåleostesmørbrød.
Tips: Du kan bruke Pablo eller Slegge til denne retten hvis du ikke vil ha trøffel. 
Tekst og Foto: Helleskitchen.org