Bakt avokado får en nydelig kremet konsistens. Dette er en perfekt frokostrett til den som vil ha alt-i-ett. Jeg har brukt Ask gårds Holy baloney-salami i retten. Det er en klassisk, italiensk salami med hvitløk og pepper. Du kan velge om du vil bruke vaktelegg eller hønseegg. Det kommer an på om du vil ha mye egg eller mye avokado. Uansett, så må du scoope ut litt av avokadokjøttet for å få plass til fyllet.
Sett ovnen på 200 grader før du lager retten slik at ovnen er varm og god når avokadoene skal bakes.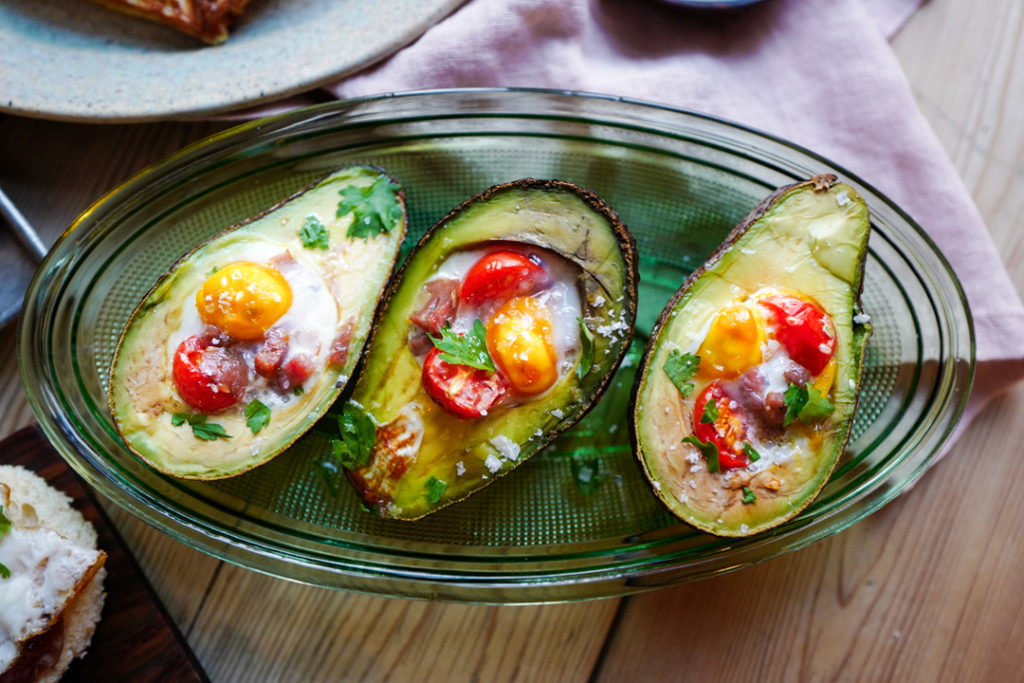 DETT TRENGER DU:
1 avokado
1 vaktelegg eller et hønseegg
1 cherrytomat, delt i do
1 ss Holy baloney-salami, skåret i staver
fersk koriander
flaksalt og pepper
1 ts god olivenolje
SLIK GJØR DU:
Del avokadoen. En avokado (to halve) er mer enn nok til en person til en fullverdig frokost.
Scoop ut litt av kjøttet. Skal du bruke vaktelegg trenger du ikke scoope ut mer enn en teskje. Går du for hønseegg må du scoope ut mer kjøtt.
Del tomatene i to og legg to halve i hvert hull. Skjær salami i staver og legg i avokadoen. Knekk egg i hvert hull. Dryss over litt flaksalt og pepper. Sett i ovnen og bak til eggene har stivnet. Ta ut og hell litt olivenolje over og dryss koriander over.
tekst og bilde: Helleskitchen.org